Bobby the Musical

Bobby the Musical is a lighthearted musical for children that tells a universal tale of a young child who is a disaster at school, hopeless at learning in a conventional way and tests the patience of his teachers and fellow students.
When Bobby accidentally demonstrates that he can learn anything by applying his gift for music the school principal discovers Bobby's unrecognised talent by chance and is immediately convinced that this is the way to teach other students like Bobby.
Bobby becomes the school hero and idol, providing the perfect end to this story.
………………………..
Bobby the Musical includes such great, catchy songs as;
I Don't Want to Go To School Today sung by Bobby and then in turn by the school principal and teachers; The Sandwich Song, an hilarious duet sung by Bobby and the Principal; Bounce featuring the school basketball team rhythmically bouncing basket balls as they march down the aisles; The Sports Results – will the tedium of sports results read out at assembly ever be the same after this song? IWant to Play the Violin sung by Mr Springer, the sports teacher of course!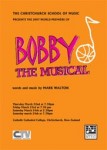 Listen to some song clips from the first performance on
March 22nd 2007 in Christchurch, New Zealand.
The children in this performance were aged between 8-14.
Further performances
Overture sample audio
Principal's Prowl sample audio
Concentrate sample audio
Bounce sample audio
We Don't Want You in Our Team sample audio
I Don't Want to go to School sample audio
It's All in the Angle sample audio
I Want to Learn the Violin sample audio
Thank You sample audio
The Best Day of our Lives sample audio