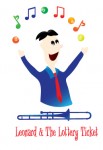 – a totally true story for anyone with a good imagination
Leonard is a nice guy but really very ordinary and he just hates to stand out from the crowd. Leonard's life has a reassuring monotony to it until one morning his very ordinary ageing car won't start and for the first time ever he arrives late for work at the Depot.
Well things just go from bad to worse and within a space of a few hours his life is in pieces. His boss tells him that due to the international global financial downturn and the effects of global warming he is surplus to requirements.
Now if that isn't bad enough things then get worse for Leonard when he discovers he has won the big one – yes we are talking millions!
How could Leonard be ordinary anymore with all of this money?
…. well all I can say is, thank goodness for the trombone.
You can listen to some song clips:
Overture sample audio
We're Talking Millions sample audio
Nice Knowing You sample audio
Join the Band
sample audio
Seven Days a Week
sample audio

Singleton Civic Centre 12th September 2009