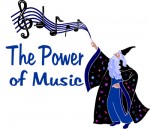 THE POWER OF MUSIC
Set long, long ago in the troubled Kingdom of Movania this enchanting story tells of how music helps to save the doomed Kingdom.
The Power of Music
Lights are out in the Auditorium. No music stand lights are on and everything is in darkness.The Narrators walk to the microphone dressed as wizards.A feeble light emanates from The Power Beam placed next to the two narrators.
Wizard 1
We have a story to tell you that is extraordinary and quite wonderful .. in fact it is absolutely unbelievable. Despite this our story is totally and utterly true.
Wizard 2
To start our story we have to travel back in time …. back so far that even the oldest person you have ever met wouldn't remember what we are about to tell you.
Wizard 1
Not only do we have to go far back into time but we also have to travel to the Kingdom of Mavania far far away on the other side of the world. At the time of this story the Kingdom of Mavania was ruled by the good and noble Queen Sophia.
Wizard 2
If you are ready to travel back in time to this Kingdom with us to hear our story you must all turn off your mobile phones and hide any personal outward signs that you are from the 21st century.
Wizard 1
To get your mind ready for our journey place the palm of your left hand on your head and slowly rotate your hand in an anti clockwork fashion. When we feel that you are all in a relaxed and believing state we will start the music that will transport us back into history.
Orchestral lights come on and the Overture Starts…..

The Power of Music was first performed for the
Xstrata Coal Power of Music programme at
Singleton Civic Centre on 7th September 2008
Further performances
This 40 minute show can be performed with a cast of children actors divided into the conflicting tribes of Zonderas and Toperas with one or two narrators.